Jenny Sperling and Dr. Eva Goldfarb accepted our invitation to talk about sex education in schools. In a context where sex education starts as a negative topic looked at through abstinence and prevention lenses, we reflected on comprehensive sex education and what it means.
Comprehensive sex education
When we say sex education, the first thing that comes to our mind is the reproductive system, but we know that's a restrictive and patriarchal definition. When we try to change it, we link it to intersectionality, inclusiveness, and gender equality. Although good at its heart, J. Sperling highlights that it's not always enough to make lists of what comprehensive is. "I think there are a lot of words we use in front of sex education, and these are all really meaningful if they're meaningful to the communities that we're working with. If it's meaningful to me as a white woman, does not necessarily mean it's gonna be meaningful to a queer black boy."
E. Goldfarb adds that some of the best sex education is done in English, social studies, art, music, and mathematics classes and not in health education classes as expected. As a result, the harassment and bullying rates are lower, and all children feel safer. "We need to think much more broadly when we say comprehensive because it has to do with every aspect of our lives. Sex education happens all the time, throughout the day, every minute."
In this sense, we could also broaden the definition of inclusiveness. Inclusive comprises different learning styles and different school curriculums.
Main issues with school education
For sex education to be comprehensive, it should start at a young age for children to develop the needed critical skills to question social norms. The idea of one size fits all visible in school decisions is not working for young people's needs. There is a global way of applying school systems in different educational contexts. The Oklahoma students have different needs than New Jersey or Germany. When debating over the grade to introduce sex education, our guest makes the most suggestive analogy. For example, no one doubts that algebra basics should be taught in elementary years. It is the same case with sex education. A foundational concept in the early stages will set the ground for advancing more complex subjects such as self-awareness, sexuality, and identity in high school. Focusing on adolescence and missing the previous and following stages as if no one needs sex education before and after the teenage stage is the leading factor for poor information.
As restrictive and regimented school settings look, research shows that it is within schools where we find teachers skilled in addressing this topic. Most often, these are the teachers that students respect, trust and feel comfortable with, teachers with abilities and desire to talk with young people. Here, we put the question of whether health teachers are the best ones to give these classes.
The problem with a formal environment is the lack of time and resources teachers face to build the trust adolescents need. Our guests agreed on the importance of spending more time with youngsters and giving them the attention to express opinions because we often provide the space but are not prepared to use it in the student's best interest.
The future of sex education
Imagine sex education is social justice, inclusive, intersectional, feminist, and gender equal, with queers at the full front! Imagine sex education as NON-controversial and access-free!
Imagine the time when we'll use the voice we gained in sex education classes to make the change! Imagine it because sooner or later we will reach that sex education! While waiting, watch the Sex Education in Schools episode on YouTube, follow Montclaire State University's activity on social media, and read our guests' research Our Whole Lives: Sexuality Education for Grades 10-12.
---
Show resources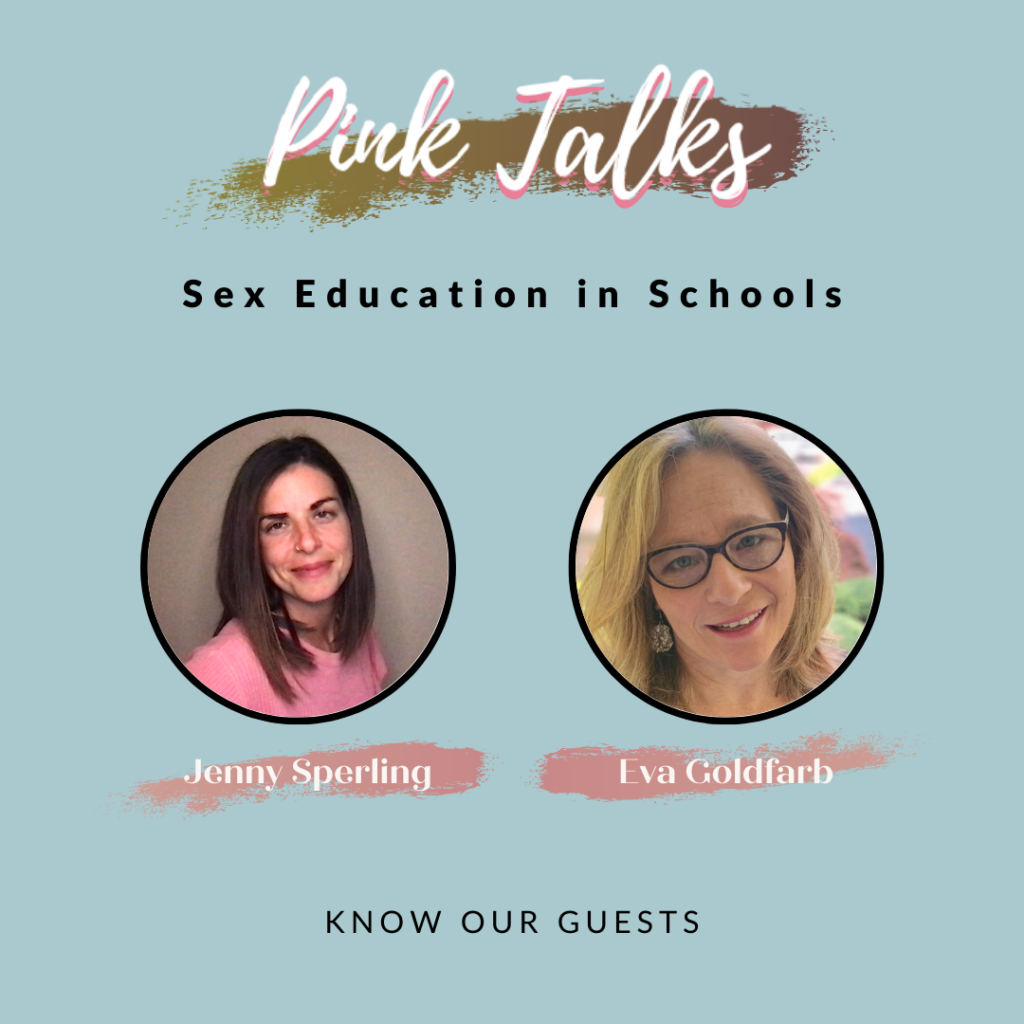 Jenny Sperling is an assistant professor of Critical Studies in Education in the department of Educational Leadership and Policy Studies at the University of Oklahoma. Prior to joining the faculty at the University of Oklahoma, she completed her Ph.D. in Education at the University of California, Santa Barbara. Jenny's research interests include queer sexual health education, K-12 educational policy, and local legislation, and creating care-centered community collaborations in and outside of that prioritize youth and their needs.
Dr. Eva Goldfarb is a Professor of Public Health at Montclair State University in New Jersey. Over the past thirty years, she has developed and led education about sexuality and sexual health programs for youth, parents, educators, and other professionals and has trained current and future school teachers across the United States. Dr. Goldfarb is co-author of several sexuality education curricula including Rights, Respect, Responsibility, Being Out, Staying Safe (BOSS), a sexual health curriculum for LGBTQ+ youth and Our Whole Lives, Grades 4-6 and Grades 10-12. She has published widely in the area of human sexuality and sex education and helped to develop the National Sex Education Standards, and the National Teacher Preparation Standards for Sexuality Education in the United States. Most recently, her study with co-author Dr. Lisa Lieberman: Thirty Years of Research: The Case for Comprehensive Sex Education, published in the Journal of Adolescent Health provides evidence for the effectiveness of inclusive, sex-positive, social-justice-focused sex education beginning in Kindergarten. For her work, Dr. Goldfarb was awarded an honorary Doctor of Humane Letters, the Golden Brick Award by the Center for Sex Education, and the Professing Excellence Award for Outstanding Education Practices by Montclair State University.
Books and articles
Goldfarb, E. (2000). Our Whole Lives: Sexuality Education for Grades 4-6. Unitarian Universalist Association: https://books.google.ro/books/about/Our_Whole_Lives.html?id=Z_ocn2hsfOUC&redir_esc=y

Goldfarb, E. (2000). Our Whole Lives: Sexuality Education for Grades 10-12. Unitarian Universalist Association: https://books.google.ro/books?id=3Ok6pvjFJxsC&hl=ro&source=gbs_similarbooks

(PDF) Book Review: Queer Voices from the Locker Room | Jenny Sperling – Academia.edu
Social Media
https://twitter.com/MSUCEHS
https://www.facebook.com/montclairstateuniversitycehs/
https://www.instagram.com/msucehs/
https://www.facebook.com/montclairstatepublichealth