Proceeding the campaign 16 Days of Activism against Gender-based Violence, we give the Pink Talks space to NGOs that promote human rights, combat violence against women, advocate gender equality, positively impact the lives of women and advance their rights.
We discussed with Alessia and Debora about their work in the Approdi Association, a non-profit association committed to uplifting those without assistance. The anti-violence and anti-racist ethos shapes their support and integration initiatives, such as the CoCo Lab project.
CoCo Lab: Empowering Migrant Women through Collaborative Design and Construction of Laboratories in the Bologna Region seeks to forge a space for inclusivity, social bonding, and empowerment specifically tailored for migrant women in the Bologna region. Grounded on principles of fairness, shared planning, and collective creation, the project aims to construct a secure and embracing space where social connections thrive and the collaborative development of activities meets individual needs.
A silent book
The approach is interdisciplinary and transcultural with a focus on psycho-social support for migrants. From psychologists, psychiatrists, therapists, music therapists, and educators to anthropologists, different professionals and entities work within a diverse community to help migrants affected by trauma. Based on research and expert studies that show how the brain responds to traumatic experiences, Approdi uses the three-phase model: stabilization, narration, and integration.
How does it look in practice?
Their solution for stabilization is building a relationship with one's own body and the others to reactivate resources that the brain overlooks when in a state of alert. Connecting migrants with the team and building a community also come as a way to re-establish their social trust and reliance on people. While the stabilization phase reduces the state of alarm, the narration stage verbally frames the memory. Here, the team uses images, a non-verbal channel to express what words fail to. Their tool is The Arrival, by Shaun Tan, a silent book using images as a vehicle for storytelling. The aim is to recollect the memory, place it under the here-and-now coordinates, and link it to other experiences.
A map: co-projection and co-construction
CoCo Lab was born out of two elements: the discovery of UNICEF projects creating safe spaces for women and girls and the observations of the Approdi team made over years of work. The evolution of both participants and the community as a whole demonstrates the efficiency of how they adapt psychological theory to informal activities.
The activities are open and unscripted, based on the unique needs and everyday realities of women. The principle is to enhance their strengths and resources within a context of freely expressing ideas, sharing, and learning from one another.
Over a year, evolution shows up at multiple levels. Women gained autonomy and freedom of movement both inside and outside the organization. Self-confidence increased, which now allows them to suggest and coordinate activities. Socially, the dynamics switched from a people assembly to a group, from general communication to sharing personal aspects of their lives and extending the relationships out of the Lab.
The results indicate that the stabilization phase was achieved and resources activated. They confirm the model works to a human extent beyond the CoCo Lab environment.
Different is a plus
Besides the co-creation process, non-mediated language is also unique to CoCo Lab. Interaction takes place without cultural mediators or other filters. Debora observes how mediators would give a sense of service to the project.
Migrants from Afghanistan, Sudan, Nepal, Togo, Sierra Leone and Ukraine already participate in structured integration projects. The CoCo Lab wanted something different to encourage informal communication and verbal or non-verbal self-expression rather than mediation.
Respecting the differences and valuing the uniqueness of each individual are the fundamentals of the project. Everybody is perceived as safe no matter the cultural context, community or background.
Takeaways
When asked what they learned working on the project, Alessia appreciates the freedom to explore and understand body and mind, while Debora is more connected to the relational aspects of it. "I do not perceive myself as providing a service, I feel myself in the relationships", says Debora.
CoCo Lab has the potential and power to enrich our experiences. It is a point for meeting different cultures, knowing people and building relations, opening minds and challenging ourselves.
---
Show resources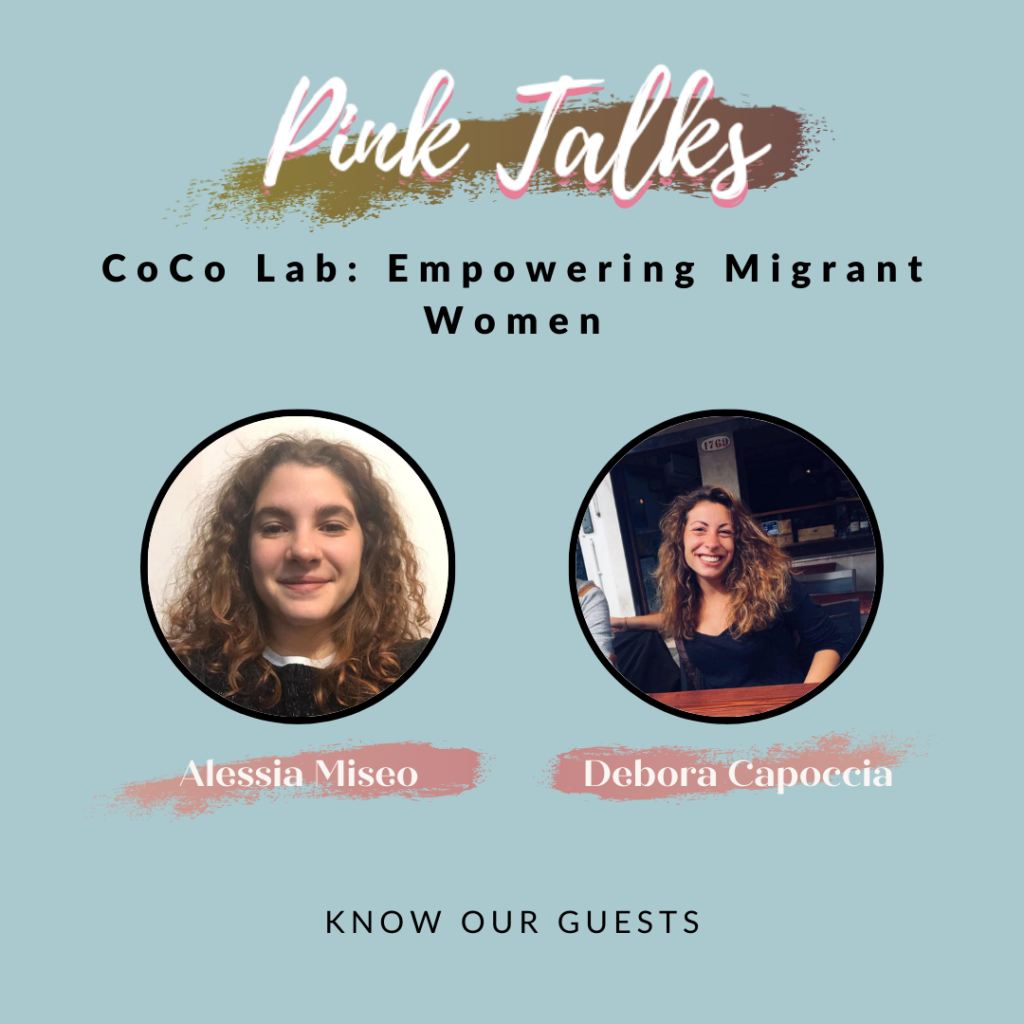 Alessia Miseo is a Doctor of Psychology with a master degree in Psychology of Community and School. She developed an interest in migration and intercultural aspects by joining No Name Kitchen, an international NGO with projects providing mental health support on many borders of the main European migration routes. Her interest was consolidated through an internship in Bologna, and now she continues to work in the area of human rights and mental health, specifically for people on the move, by cooperating with Approdi ODV in Bologna and Europe.
Debora Capoccia is a Doctor of Psychology with one master in Psychology of Intercultural Relations and one in Psychology of Well-being and Social Inclusivity. Based in Bologna, Debora has built her professional career in different European countries, working in the fields of migration, mental health, human rights, gender equality, education and projection. Three years ago, Debora joined Approdi ODV, a voluntary organization focused on mental health for immigrant people in Italy. She also works as a mental health operator for the Here4U project created by Unicef.
Approdi website: https://www.approdi.org/
(n.d.). Virtual Safe Spaces. Unicef.org. Retrieved October 30, 2023, from https://www.unicef.org/documents/virtual-safe-spaces
PDF: UNICEF Virtual Safe Spaces – Laaha One Pager
Laaha project website: https://iq.laaha.org/en/home
(2015, December 13). Here are the reasons why girls need a safe space. Unicef.org. Retrieved October 30, 2023, from https://www.unicef.org/turkiye/en/stories/here-are-reasons-why-girls-need-safe-space
Tan, S. (2006). The Arrival. Hodder Children's Books.
The Arrival – Tan, Shaun, Tan, Shaun: Books
Shaun Tan website: Arrival book — shaun tan