We saw in the Sex education in museums episode that sex education breaks down stereotypes, empowers, and gives agency to individuals. Without sex education, how can we understand the spectrum of sexual experiences? How can we expect to have an inclusive conversation if we lack comprehensive sex education in the first place?
"Having a stronger presence online and a director of disabled sex educators" — Amber DiPietra
In the US context, the disability rights movement has been called the forgotten civil rights movement. This is the reason Amber DiPietra, our guest, co-founded two social justice collectives, the Tampa Bay Area chapter of the Sex Workers Outreach Project (2013) and the Disability and Sexuality Access Network (2016). When asked about the difficulties in addressing disabilities and sexuality, she referred to persisting old beliefs. Disability is still associated with a lack of sexuality, consent abilities, and a childlike image. With sex being a taboo, adopting one's own sexuality comes with fear, pressure, stigma, and barriers. It's the case with disabled people who, on top of these biases, face different prejudices based on their disability.
"Hire disabled actors to play disabled characters" — Amber DiPietra
Once again we put the question of solutions. What changes need to happen to counter stigmas and integrate disabled people in all aspects? Ideally, The Americans with Disabilities Act (ADA) would be implemented in the same way other laws are enforced. As the current sex education in US schools is not a hospitable place for people with disabilities, they need to be fully integrated not only in sex education but in every facet of the school. We know representation matters. That means giving them a space in the foreground. DiPietra talks about a cultural shift made with the fearlessness of allowing disabled people to come into the conversation. When doing this, it is important to care for accommodation.
With social media democratization, people with disabilities can step up and tell their stories. Media, including movies, has to build characters with powerful sexual identities and place them in intimate situations that deconstruct our view of disability and sexuality. That is why a disabled actor is more suitable to play disabled characters. People with disabilities are sexual people! Things are starting to improve because of Millenials and Gen Z, who give nuances and are redefining beauty, intimacy, sexual attraction, and body. The guest admits the terms and phrases these generations use, like desire politics, have the power to open up societal perspectives.
"There is no scenario in which disabled folks need to be kept out of any kind of sex education" — Amber DiPietra
In the end, our guest emphasized that wherever a sex education discussion takes place, we should be reminded of the left out identities. Disabilities rights and justice are as important as other social movements. Keep in mind that it's even harder to be an activist and work on social projects when having disabilities, especially in the lack of funds! To unlearn disability and sexuality prejudices, listen to our podcast and put yourself in other shoes.
---
Show resources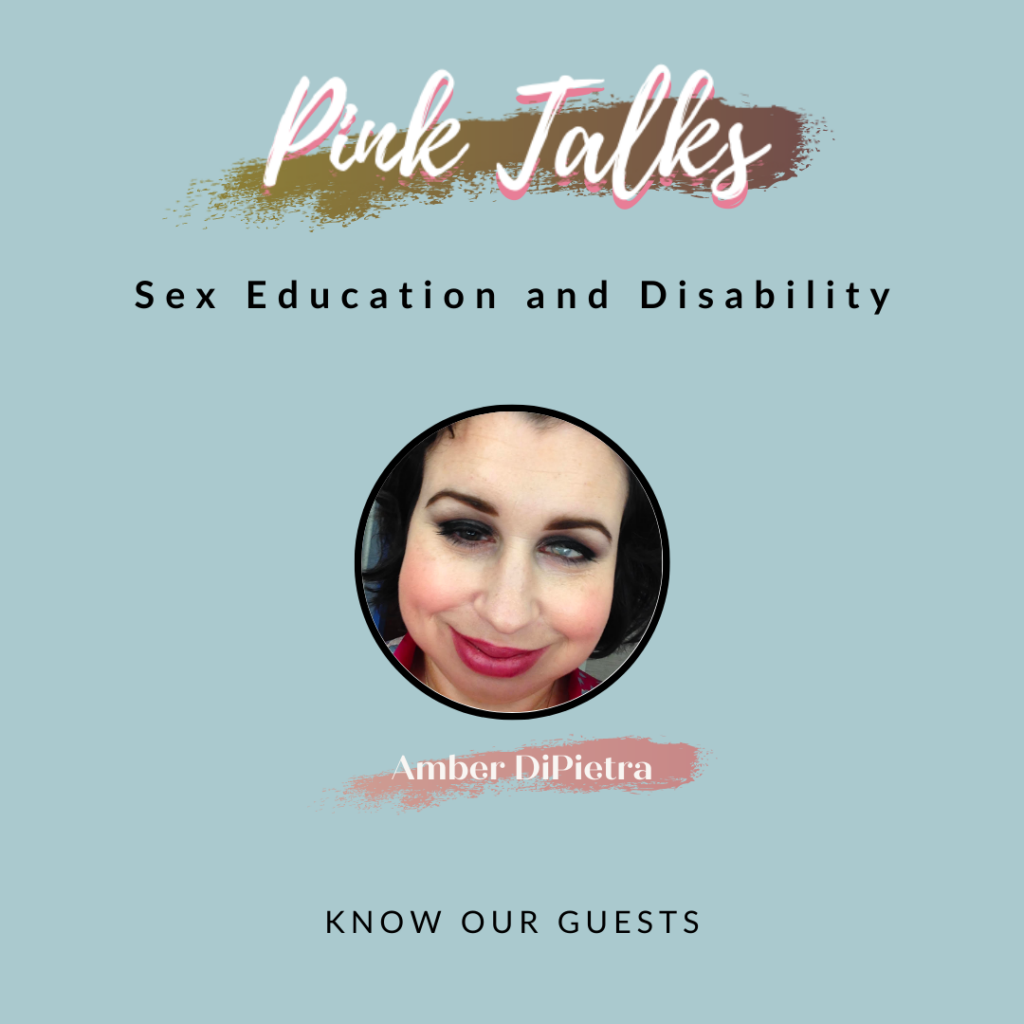 Amber DiPietra is a poet, performance artist, bodyworker, and organizer for disability and sex worker rights. Her book Waveform, with collaborator Denise Leto, came out from Kenning Editions in 2011. Her one-woman show, the "Opposite of Evolution Dance Studio" premiered at the Tampa International Fringe Festival in 2018. Other writing appears in anthologies like Beauty Is a Verb: the New Poetics of Disability (Cinco Puntos) and Poetry and Work (Palgrave). She is a co-foundee of two social justice collectives; the Tampa Bay Area chapter of the Sex Workers Outreach Project (2013) and the Disability and Sexuality Access Network (2016). If you want to find out more about her work, you can find her at "the bodypoetik" on all the social media platforms. To find out more about the disability and sexuality collective she is part of, go to Linktree and search "get pleasurable".
Series:
Nunn L., Sex Education. (2019 – present)
Sex Education (TV Series 2019– ) – IMDb
Rashid R., Atypical. (2017–2021)
Atypical (TV Series 2017–2021) – IMDb
Silveri S., Speechless. (2016–2019)